"Sometimes I would like to ask God, why He allows poverty, famine and injustice in the world, when He could do something about it... but I'm afraid He might ask me the same question." Anonymous
Oh my word. I was completed convicted when I read this quote. And then I continued reading. Her story. About her family. Their faith. Their willingness to serve God. Their passion. For children. For adoption. For serving others.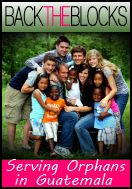 You see Ms. Amy is moving. To Guatemala. And not just her. But her family. Her large family, five of which are adopted. To serve. In an orphanage called Eagles Nest.
You can read more about these sweet children at Eagles Nest
here
. What a joy to know that Amy is willing to "be the change" as she signs her blog posts. She is living it. And I find that so inspirational.
I can't help in the way that Amy is. But I can help a little, although I feel almost embarrassed by this small contribution. But I long to help. So from now when you mention eagles nest and make a purchase in my
online store
25% of the sale will go to the orphange. Be the change.
linking up with Casey...